JoinDef Definition Frame
Use the JoinDef Definition frame to specify the tables to be included in a JoinDef and their roles (Master or Detail), and whether the JoinDef must include table fields.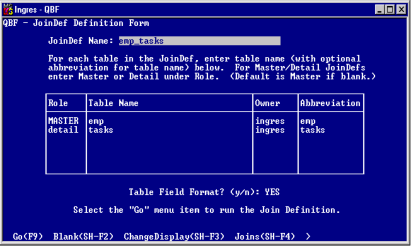 The menu items for the JoinDef Definition Form are as follows:
Go
Executes the JoinDef.
Blank
Erases the current entries in the window.
ChangeDisplay
Drops unnecessary columns from the JoinDef specification.
Joins
Displays the JoinDef Specification frame for viewing or changing the join columns.
Rules
Establishes rules for deleting or updating data in the tables included in the JoinDef.
Save
Saves the JoinDef.
ListChoices
Lists the available choices for the selected field.
Help, End, Quit
Perform standard operations.