JoinDefs Catalog Frame
The JoinDefs Catalog frame, shown in the following figure, displays a list of existing JoinDefs and a menu of operations for working with JoinDefs.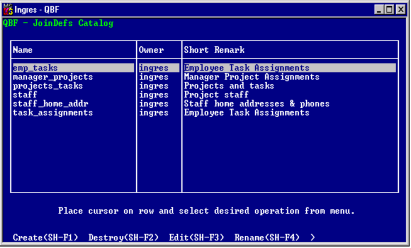 The menu operations for the JoinDefs Catalog are as follows:
Create
Guides/enables creation of a JoinDef.
Destroy
Removes a JoinDef from the database.
Edit
Enables editing or viewing of an existing JoinDef.
Rename
Changes the name of an existing JoinDef.
Go
Runs a query on an existing JoinDef.
MoreInfo
Displays additional information about the JoinDef.
Help, End, Quit
Perform standard operations.