Produce a Preview Report
Use the Preview operation to produce a report on any table, view, or JoinDef. The Preview operation produces a report directly from the selected table or view; it does not produce a report specification.
To run a preview report
1.
Choose the Preview operation from the Report Catalog frame.
2.
When the Run a Report Based on a Table pop-up appears (in the following figure), enter the name of the table, view, or JoinDef for which you want a report and select the OK operation.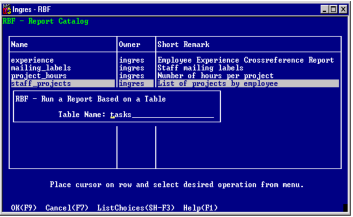 3.
The Choose a Report Style pop-up appears.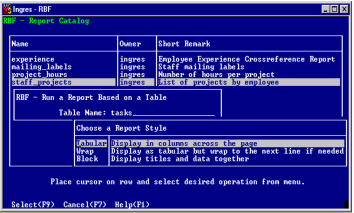 Place the cursor on the desired report style and choose the Select operation. You can choose:
The Master/Detail, Label, and Indented report styles are not available for Preview reports.
4.
When the Select a Destination pop-up appears, place the cursor on the desired destination and choose the Select operation. You can choose: