Lock List Display More_Info Screen
When the More_Info menu item is selected from the Lock List Display, a pop-up containing additional fields for the specified lock list is displayed.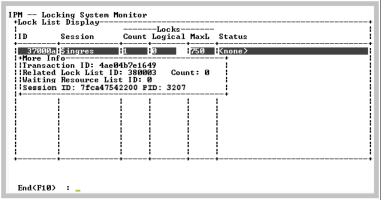 The additional fields are as follows:
Transaction ID
Transaction identifier associated with this lock list. This value corresponds to the External TX ID column on the Log Transaction Display screen. For more information, see
Log Transaction Display Screen
.
Related Lock List ID
Related lock list identifier, if not a transaction lock list
Count
Number of related lock list identifiers that this lock list must assure are released before this lock list can be released
Waiting Resource List ID
Internal resource block identifier of the lock that is currently blocked
Internal Session ID
Internal session ID number
External OS Process ID
External operating system process ID number