The StarView Main Frame
The StarView main frame is displayed in the following figure: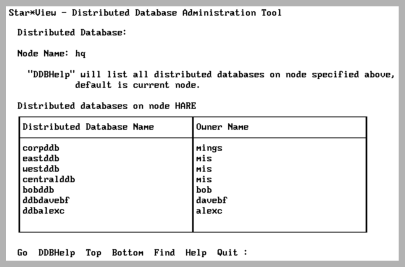 You can view and choose from a list of distributed databases or type the name of a distributed database. see
Select a Distributed Database
.
The StarView main frame includes the following operations:
Go
Connects you with the displayed distributed database and displays its associated nodes and component local databases.
DDBHelp
Lists all distributed databases on the current node so you can select one. Your selection is automatically entered in the Distributed Database field.
Top, Bottom, Find, Help, Quit
These are the standard menu operations.
Last modified date: 01/30/2023