Use the Archive Operation
To archive a saved report specification
1.
On the Report Catalog frame, place the cursor over the name of the report specification that you want to archive.
2.
Choose the Utilities operation.
3.
From the Utilities submenu, choose Archive.
The Archiving a Report pop-up appears.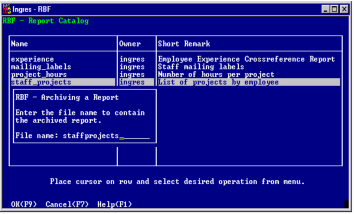 4.
In the File Name field, enter a file name for the report specification text file.
The Archive
operation automatically adds .rw to the end of the file name you specify (unless you add your own extension). For example, if you entered the file name staffprojects, the archived file has the name, staffprojects.rw.